10.05.20
Corvus Team
RDP Deep Dive: #1 Ransomware Attack Vector & What Brokers Need to Know
Top Threats to Remote Desktop Protocols
Lauren Winchester, VP of Smart Breach Response, and Elizabeth Cookson, Director of Incident Response at Coveware, a leading ransomware incident response firm, discuss securing the most common ransomware attack vector - Remote Desktop Protocol - including how Corvus reduced ransomware claims by 65% through RDP detection.
What is RDP and how does it relate to ransomware?

What kinds of businesses are targeted by RDP and what does the typical attack look like?

How does Corvus help policyholders prevent attacks through RDP?

How can my clients properly secure RDP?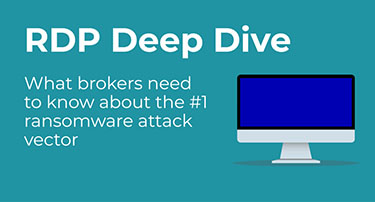 It starts with 5.25-inch floppy disks. Cue up Every Rose Has Its Thorn by Poison -- because it's 1989. Computers aren't a household necessity quite yet, the AIDS epidemic is ablaze, and a Harvard-taught evolutionary biologist, Dr. Joseph Popp, has mailed 20,000 copies of a computer-based questionnaire to the recent attendees of the World Health Organization AIDS conference.
A fresh face compared to other lines, cyber has taken many forms before — an easy add-on, a profitable afterthought, a tech-heavy nuisance — but was never a top priority. However, after headline-worthy ransomware attacks, data breaches, and serious losses for insurers, cyber insurance is getting the main character treatment.