10.05.20
Corvus Team
RDP Deep Dive: #1 Ransomware Attack Vector & What Brokers Need to Know
Top Threats to Remote Desktop Protocols
Lauren Winchester, VP of Smart Breach Response, and Elizabeth Cookson, Director of Incident Response at Coveware, a leading ransomware incident response firm, discuss securing the most common ransomware attack vector - Remote Desktop Protocol - including how Corvus reduced ransomware claims by 65% through RDP detection.
What is RDP and how does it relate to ransomware?

What kinds of businesses are targeted by RDP and what does the typical attack look like?

How does Corvus help policyholders prevent attacks through RDP?

How can my clients properly secure RDP?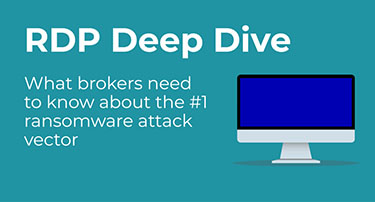 What's the difference between your most overprepared travel buddy and a cybersecurity pro?
The following interview was originally published as part of Corvus's quarterly Cyber Risk Aggregation report, known as the Nutcracker Report. We deliver these insights on trends in the aggregation of cyber risk to a select group of reinsurers, reinsurance brokers, and program managers. If you'd like to receive the report in the future, please send your inquiry to flock@corvusinsurance.com.