02.01.21
Corvus Team
[WEBINAR] Introducing the Ransomware Risk Score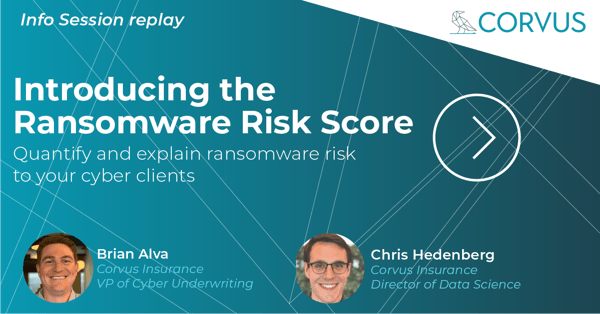 A ransomware score has always been a part of our Dynamic Loss Prevention report to measure client cyber security. But in 2020, ransomware emerged as the number one driver claims in cyber insurance.
As a result, our data science and underwriting teams got to work creating a new report with key findings about ransomware risk to now appear in Smart Cyber quote letters.
Join Brian Alva and Chris Hedenberg of Corvus for a Q&A and information session in which you'll learn how this new tool can help you:
Quantify and explain ransomware risk

Show your clients why basic security best practices are so important.
What's the difference between your most overprepared travel buddy and a cybersecurity pro?
The following interview was originally published as part of Corvus's quarterly Cyber Risk Aggregation report, known as the Nutcracker Report. We deliver these insights on trends in the aggregation of cyber risk to a select group of reinsurers, reinsurance brokers, and program managers. If you'd like to receive the report in the future, please send your inquiry to flock@corvusinsurance.com.