02.01.21
Corvus Team
[WEBINAR] Introducing the Ransomware Risk Score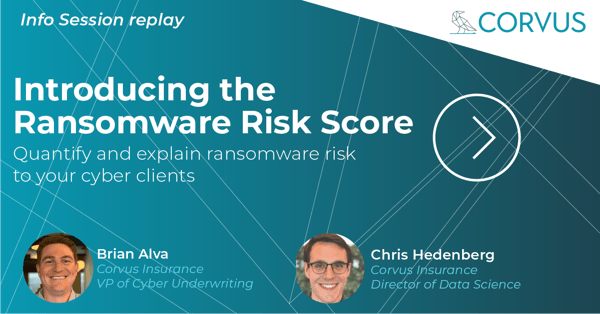 A ransomware score has always been a part of our Dynamic Loss Prevention report to measure client cyber security. But in 2020, ransomware emerged as the number one driver claims in cyber insurance.
As a result, our data science and underwriting teams got to work creating a new report with key findings about ransomware risk to now appear in Smart Cyber quote letters.
Join Brian Alva and Chris Hedenberg of Corvus for a Q&A and information session in which you'll learn how this new tool can help you:
Quantify and explain ransomware risk

Show your clients why basic security best practices are so important.
The rise of remote work and growing concerns over ransomware acted as partners-in-crime to get organizations to hone in on risk mitigation efforts over the past couple years. Through compiling our Risk Insights Index, we found that with certain initiatives — safer or reduced usage of RDP, growing use of email security tools, and other measures taken to limit the impact of threat actors — businesses are more prepared than a year before and ready to play defense. Those efforts are borne out in our finding that the rate of companies who pay a ransom when attacked with ransomware fell by half within a year.
The whisperings of "firming rates" start first, quietly in business meetings, then published in industry reports. Soon to follow, rumblings of a "hard market" are brought to the conversation. It's cyclical in nature, and we see it across all insurance lines at one point or another. For years, Cyber Insurance stretched far and wide with "soft" market conditions, remaining highly profitable. Now that period of growth, with exceedingly available coverage and inviting terms, has stalled in the face of a hard market.