11.12.20
Corvus Team
[WEBINAR] How to Be a Great Broker in a Hard Market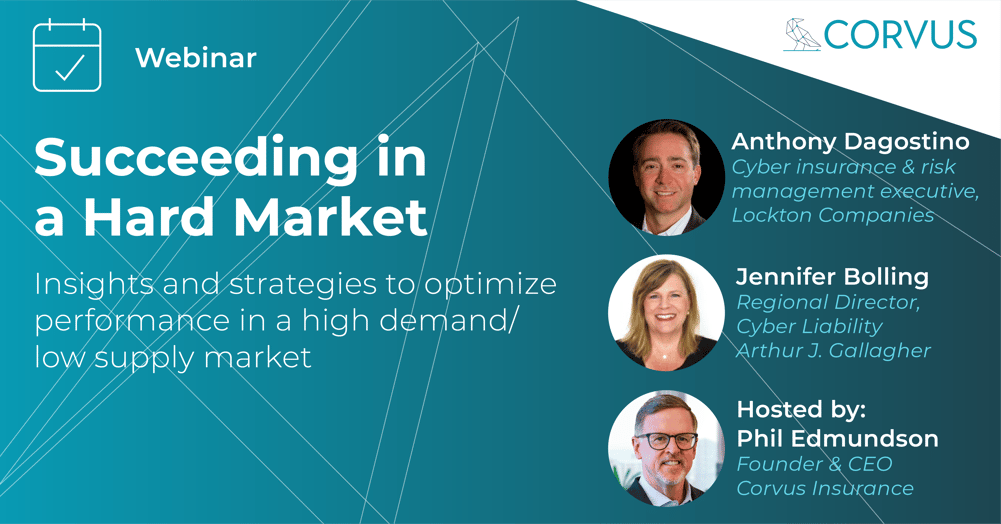 Insights & Strategies to Optimize Performance
A hard market is an infrequent occurrence, but can have a massive impact on your performance as a Cyber broker. Many brokers have little experience with a hard market.
This on-demand recording will offer insights and strategies for you and your teams to help you to optimize performance in this marketplace, including (but not limited to):
What is a hard market and are we in one?

(2:20)

What can underwriters do to help brokers succeed?

(15:00)

How might risk management tools help brokers and policyholders?

(20:45)
When cybersecurity (tech-oriented) and insurance (complicated) meet, there's bound to be some misconceptions. The mixing of two worlds invites some confusion, so we're welcoming you to our judgment-free zone. We'll get straight to the point by debunking some common myths we've seen or heard first-hand circulating about cyber insurance.
Talk our talk, then walk the walk. For even the savviest agents, business insurance can be complicated. Add in the fast-paced, frequently evolving risks of cyber, and you've got a recipe full of tech-oriented terms that aren't always forgiving to beginners, policyholders, or even seasoned pros.