08.11.20
Corvus Team
[WEBINAR] Business Email Compromise: (Unfortunately) Easy as 1, 2, 3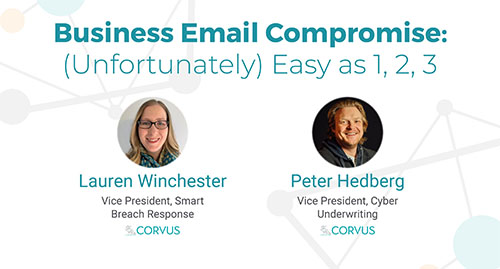 Business Email Compromise (BEC) is perennially a top cybersecurity attack vector. Why? Because, unfortunately, it's relatively easy for criminals to carry out, and it works.
In this live webinar, Lauren Winchester, VP of Smart Breach Response at Corvus, and VP of Cyber Underwriting Peter Hedberg discuss everything brokers need to know about BEC:
The Attack

Why and How do attackers target Business Email accounts?

Tools, training, and tactics

Covering losses

What coverages can your clients expect from their Cyber insurance for losses relating to BEC and social engineering?
What's the difference between your most overprepared travel buddy and a cybersecurity pro?
The following interview was originally published as part of Corvus's quarterly Cyber Risk Aggregation report, known as the Nutcracker Report. We deliver these insights on trends in the aggregation of cyber risk to a select group of reinsurers, reinsurance brokers, and program managers. If you'd like to receive the report in the future, please send your inquiry to flock@corvusinsurance.com.