12.10.19
Corvus Team
[WEBINAR] CCPA: What California's New Law Means for Your Clients
Breaking Down the California Consumer Privacy Act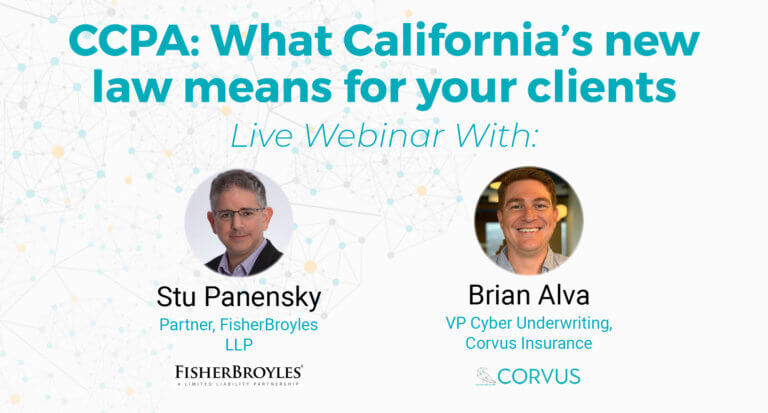 On December 10th, Corvus hosted Stuart Panensky, Partner at FisherBroyles LLP and expert from insurance and cybersecurity to discuss what insurance brokers need to know about the CCPA and how it relates to cyber exposure. Complete the form below to receive the full webinar replay.
It starts with 5.25-inch floppy disks. Cue up Every Rose Has Its Thorn by Poison -- because it's 1989. Computers aren't a household necessity quite yet, the AIDS epidemic is ablaze, and a Harvard-taught evolutionary biologist, Dr. Joseph Popp, has mailed 20,000 copies of a computer-based questionnaire to the recent attendees of the World Health Organization AIDS conference.
A fresh face compared to other lines, cyber has taken many forms before — an easy add-on, a profitable afterthought, a tech-heavy nuisance — but was never a top priority. However, after headline-worthy ransomware attacks, data breaches, and serious losses for insurers, cyber insurance is getting the main character treatment.