12.10.19
Corvus Team
[WEBINAR] CCPA: What California's New Law Means for Your Clients
Breaking Down the California Consumer Privacy Act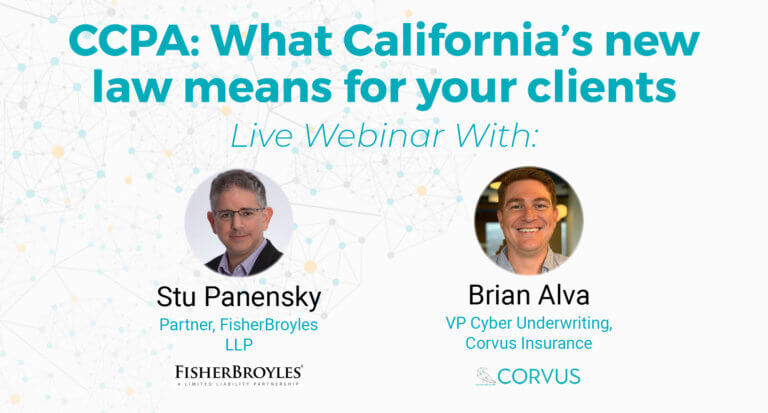 On December 10th, Corvus hosted Stuart Panensky, Partner at FisherBroyles LLP and expert from insurance and cybersecurity to discuss what insurance brokers need to know about the CCPA and how it relates to cyber exposure. Complete the form below to receive the full webinar replay.
The rise of remote work and growing concerns over ransomware acted as partners-in-crime to get organizations to hone in on risk mitigation efforts over the past couple years. Through compiling our Risk Insights Index, we found that with certain initiatives — safer or reduced usage of RDP, growing use of email security tools, and other measures taken to limit the impact of threat actors — businesses are more prepared than a year before and ready to play defense. Those efforts are borne out in our finding that the rate of companies who pay a ransom when attacked with ransomware fell by half within a year.
The whisperings of "firming rates" start first, quietly in business meetings, then published in industry reports. Soon to follow, rumblings of a "hard market" are brought to the conversation. It's cyclical in nature, and we see it across all insurance lines at one point or another. For years, Cyber Insurance stretched far and wide with "soft" market conditions, remaining highly profitable. Now that period of growth, with exceedingly available coverage and inviting terms, has stalled in the face of a hard market.