Corvus Risk Navigator
™

Accelerates Cyber-Agility
Designed for and by underwriters, this all-one-in platform is purpose-built for cybersecurity underwriting. Built on the collective expertise of our underwriting, claims, cybersecurity, and data science teams, the solution helps underwriters stay ahead of evolving cyber threats with proactive and continuous risk calibration, predictive risk reduction, algorithmic pricing, and automated efficiency.
Tech-powered World Class Talent
Combined years of cyber underwriting and claims handling
Industry-beating loss ratios
Forbes best startup employers
Top brokers work with Corvus
"My prior agency took nearly a decade to grow revenue 5x. We matched that in 3 years with superior risk insights, distribution mechanisms and tech. I'm really excited about what we can achieve in the next 3 years."

Peter Hedberg
VP of Cyber Tech E+O Underwriting
"Corvus underwriters have revolutionized the way they work with brokers with a data sharing network. They share real time alerts with security scans, continuous updates throughout the policy period and actionable policy controls if an insured's risk profile is not up to par..."
Speed up quotes with in-line suggestions
Make quick underwriting decisions with risk policy control suggestions inline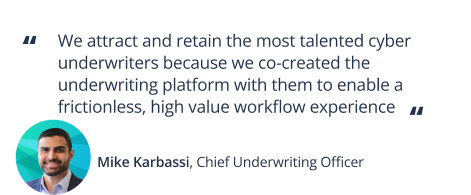 The average policyholder patches their system

3x faster

with Corvus alert notifications.
Cyber Resilient Risk Reduction
Continual risk assessment, proactive security posture management, loss prevention and rapid remediation for a dynamic threat landscape
Level Up Your Cyber-Agility
Digital agility powered by Corvus Risk Navigator™ and an elite team of pioneering talent.