04.16.19
Corvus Team
Getting to Know the Corvus Scan
The Corvus Scan is what enables us to quickly provide customized price and coverage options for brokers and helps to make our form one of the shortest in the industry.
A High-Level Overview of the Corvus Scan
If you work with Corvus, you know that the Corvus Scan is a critical part of what makes our Smart Cyber Insurance policies work. It's what enables us to quickly provide customized price and coverage options for brokers and helps to make our form one of the shortest in the industry.
What you might not know is exactly what goes into each scan, behind the scenes.
How the Corvus Scan Works
The Corvus Scan is a non-invasive test of an organization's web-facing assets. Since it doesn't involve penetrating an organization's IT systems, we don't require a password or any special access. All of the information we need is out in the open -- you just have to know where to look, and what to do with it.
Finding out where that information is -- all of the IT "exposure" the organization has in terms of infrastructure they own or use -- is what takes place in the first phase of the scan: the Discovery phase. After that, the Testing phase involves running vulnerability tests against the assets that have been identified in order to assess security.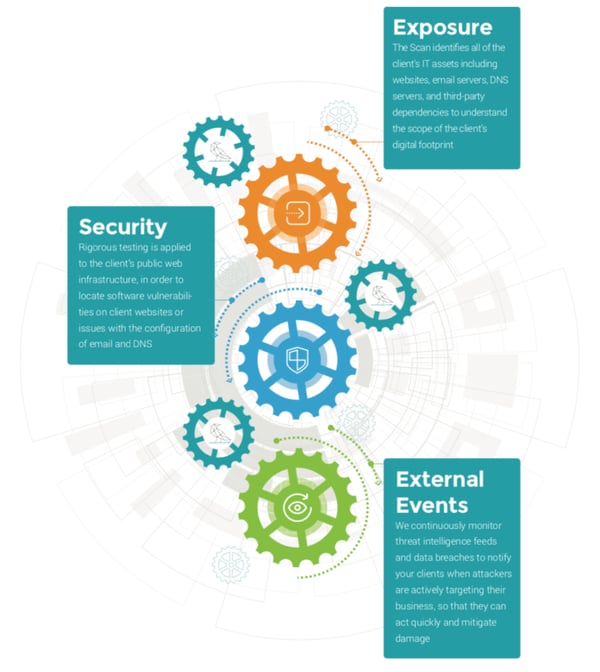 Finally, the results of the tests are aggregated and weighted appropriately given their severity. And once the policy is in effect, further monitoring takes place on a continuous basis. If any external events occur that may jeopardize the organization, they will be notified. This all takes place during the Recommendations and Ongoing Monitoring phase.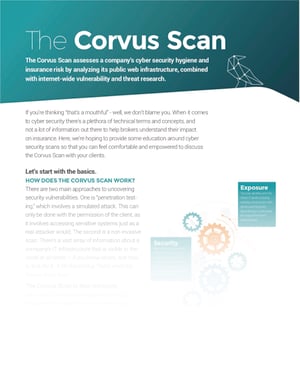 While those are the basics, many brokers and policyholders we talk to are interested in getting deeper into what goes into the scan. That's why we created a document that covers it all: from how the scan works, to the three phases in the scan process, and how the results are turned into our Dynamic Loss Prevention Reports.
The rise of remote work and growing concerns over ransomware acted as partners-in-crime to get organizations to hone in on risk mitigation efforts over the past couple years. Through compiling our Risk Insights Index, we found that with certain initiatives — safer or reduced usage of RDP, growing use of email security tools, and other measures taken to limit the impact of threat actors — businesses are more prepared than a year before and ready to play defense. Those efforts are borne out in our finding that the rate of companies who pay a ransom when attacked with ransomware fell by half within a year.
The whisperings of "firming rates" start first, quietly in business meetings, then published in industry reports. Soon to follow, rumblings of a "hard market" are brought to the conversation. It's cyclical in nature, and we see it across all insurance lines at one point or another. For years, Cyber Insurance stretched far and wide with "soft" market conditions, remaining highly profitable. Now that period of growth, with exceedingly available coverage and inviting terms, has stalled in the face of a hard market.