Thank You!
Thank you so much for your valued partnership over the past year. As a token of our appreciation, we would like to invite you and your guest to join us at the Rosewood Mayakoba for a luxurious weekend getaway.
Out Of Office!
We're thrilled to host you and your guest at Rosewood Mayakoba! Rosewood's standard check-in time is 3:00 PM and check-out is 12:00 PM. Embraced by emerald lagoons, mangrove jungle, and a pristine white-sand beach, Rosewood Mayakoba offers a private world of rarefied beauty along Mexico's Riviera Maya. We can't wait for you to explore!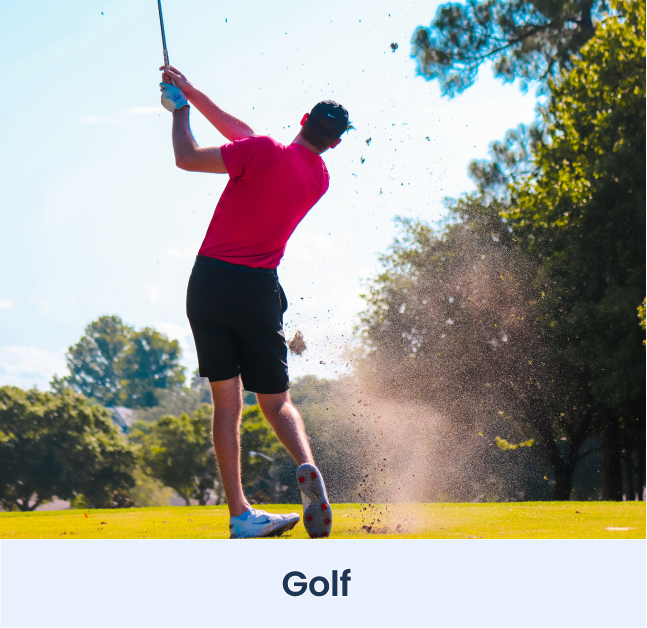 A Greg Norman-designed masterpiece, the El Camaleón Golf Course blends through the diverse ecosystems of Mayakoba, including tropical jungle, dense mangroves, freshwater canals, and pristine Riviera Maya oceanfront. The 18-hole professional golf course captures spectacular views in every direction and accommodates golfers of all abilities, with five tee marks at each hole offering distance options for every player.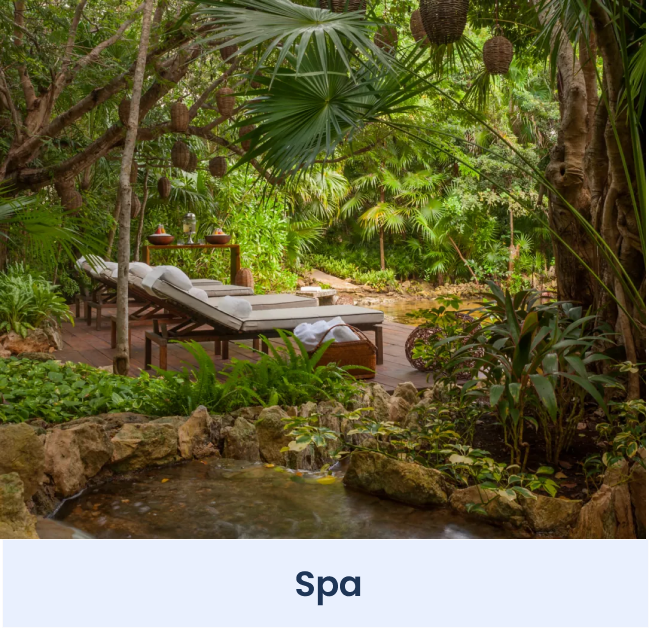 The heart of wellness at Mayakoba is a state-of-the-art Sense Spa, tucked away on its own private island among freshwater lagoons. Choose from a 60 Minute Intuitive Wellness Massage or Intuitive Skin Care Facial Spa or upgrade to another one of their unique spa experiences.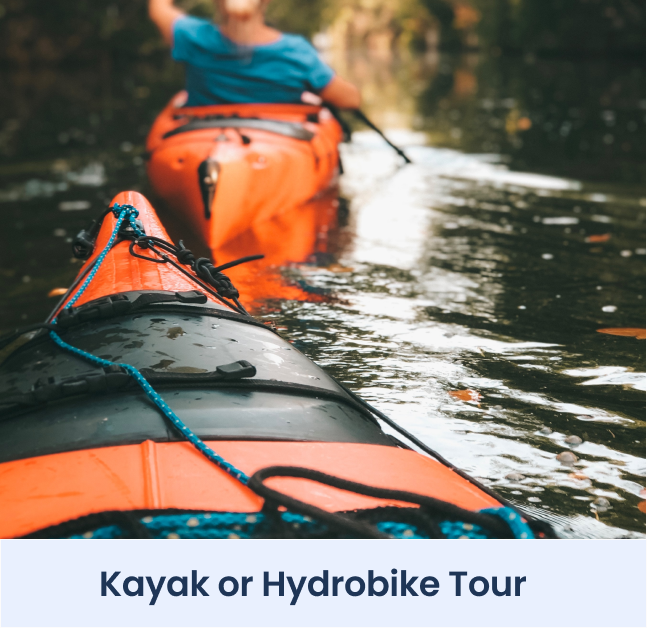 Set off on an eco-friendly hydrobike or paddle through the waterways of Mayakoba on a kayak as you explore unrivaled beauty. There are single and double kayaks for a group of up to 10 people and the hydrobikes are for single use.
Dress Code: Beachwear or casual attire
Activity Length: 1 Hour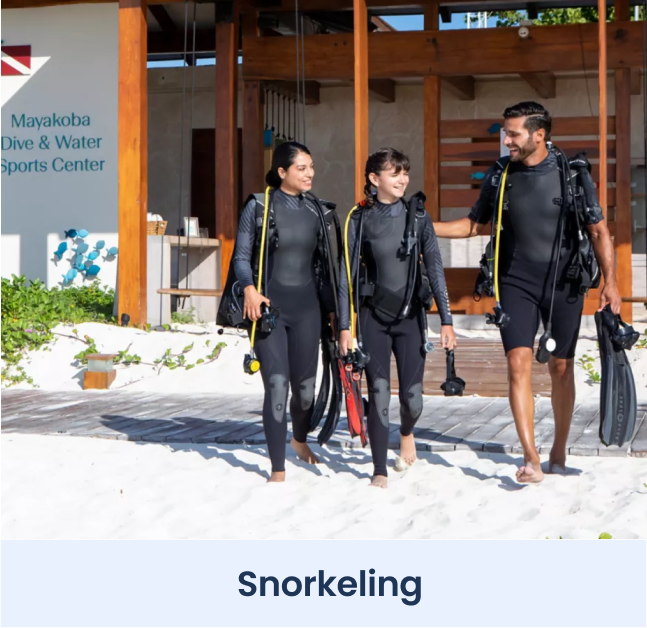 Starting at the Mayakoba Diving Center, this excursion will take you to the Mesoamerican Barrier Reef, the world's second-largest reef barrier. Dip just beneath the sea to view the hundreds of species of tropical fish that call these waters home.

Dress Code: Swimsuits (Gear will be provided)
Activity Length: 90 Minutes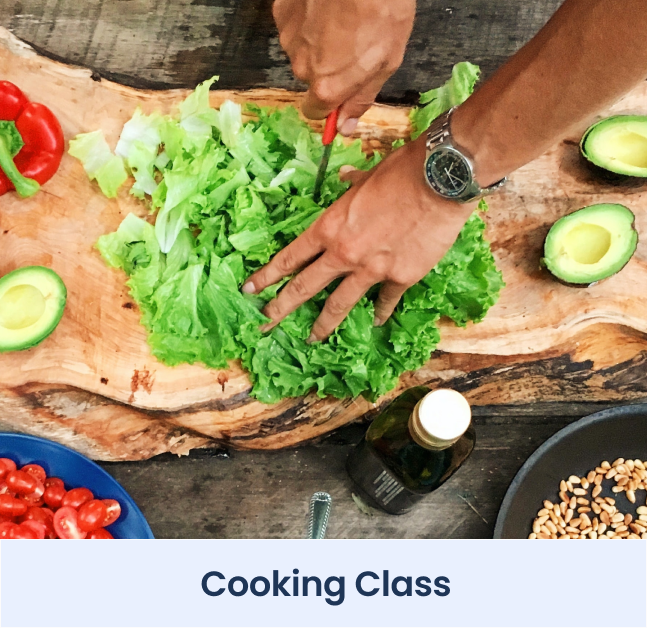 Join us in a Mexican-style kitchen located in El Pueblito, the Mayakoba town square, for an interactive and inspiring cooking experience, providing insight into longstanding cooking techniques, ingredients and cultural traditions from Mexico and the Riviera Maya. You'll learn how to work with ancestral Mexican cookware, where you can tailor each dish to your preference. Enjoy a curated selection of cocktails, wine and beer as you prepare dishes alongside a team of seasoned chefs.
Dress Code: Comfortable Shoes
Activity Length: 2 Hours
Cruise the Caribbean seas in the ultimate style and sophistication with the sleek VanDutch 55' Yacht. This unparalleled experience starts at our beach area navigating our crystal-clear waters and explores the stunning Riviera Maya coastline. Note, space is limited.
Dress Code: Beachwear
Activity Length: 4 Hours
Max Occupancy: 14 People
Passport Information
A Valid US Passport is required for entry into Mexico
Visit here to apply or renew your passport.
Weather
In June, the average temperature is 30°C (86°F), and the average low temperature is 26.4°C (79.5°F). Pro-tip: Pack sunscreen and bug spray!
Dress Code
Resort casual attire is appropriate for all evening events. Golf attire required for golf excursion.
What's Included:
As our guests, Corvus will be covering your airport transportation, hotel stay, food & beverage, your choice of two excursions and gratuity for the wonderful people making your stay extra special! Butler service is provided 24 hours daily to all suites. Tipping is optional and any additional excursions, room nights or up-charge for spa services will be at the expense of the guest as well as airfare to Cancun.
Don't forget to pack:
Comfortable shoes

Bathing Suit

Sandals

Sun Block

Sun Glasses

Bug Spray

Hat
Contact Us
Any Questions? Reach out to Nicole Bachand, Senior Events Marketing Manager:
Corvus reserves the right to alter, modify, change or cancel this Broker Appreciation Trip.

Airfare is not provided by Corvus. Participants will be responsible for costs associated with airfare to the destination. Travel from the Cancun Airport (CUN) will be arranged through the Rosewood Mayakoba. Participants are responsible for complying with any Custom rules entering either Mexico or the United States.

Hotel lodging, food, and drink at the Rosewood Mayakoba have been pre arranged by Corvus. Expenses incurred outside of the provided amenities, including additional hotel nights and any additionally incurred spa or gift shop expenses, will be borne solely by the participant. Participants shall adhere to the rules of the Rosewood Mayakoba and Corvus assumes no liability for any liability resulting from Participants actions during their stay.

Participants should be mindful of any Department of State Travel Alerts. Corvus is not responsible for any safety-related incidents while Participants are in Mexico.